Pre-Owned Lodges For Sale
NEW STOCK NOW AVAILABLE
A range of "preloved" lodges are available and new to the market.  Benefitting from an immediate handover to enjoy the year ahead.  
 For further details please contact us at by the following options;
Meadow 40' x 22' Pre-owned Lodge - Plot 3
For Sale!
Meadow Lodge – M3 benefits from superb uninterrupted view's across to The Dartmoor National Park and it has a vista to the wild life pond.
SALE PRICE!
Spinney 40' x 20' Pre-owned Lodge - Plot 6
Spinney Lodge – S6 Located in an elevated position with panoramic views across the surrounding South Devon Countryside. 
Spinney 40' x 20' Pre-owned Lodge - Plot 9
For Sale!
Spinney Lodge – S9 Modern interior with elements of privacy and a section of shaded decking area to avoid the sunshine.
All pre-owned lodges are a rare opportunity to acquire a well looked after holiday home at an affordable price.
Built to full residential standards (BS3632), this 40 x 20 ft pre-owned lodge has a spacious layout. It features an attractive open plan lounge and dining area with a vaulted ceiling that creates a relaxing centre for this holiday home.
There is extensive decking, providing plenty of space to sit outside to relax and enjoy the views across the Devon countryside to Dartmoor.
The offer includes fibre optic 100MB internet and smart TV connection.
The agreement on this lodge is for 85 years from the date of manufacture (2010).
Features include: –
An open plan Lounge & Dining area.

A master bedroom with a walk-in en-suite shower.

A second bedroom with double bed.

Separate bathroom.

A range of fixtures and fittings.

Extensive decking.

Views across Devon to Dartmoor.

100MB superfast broadband connection.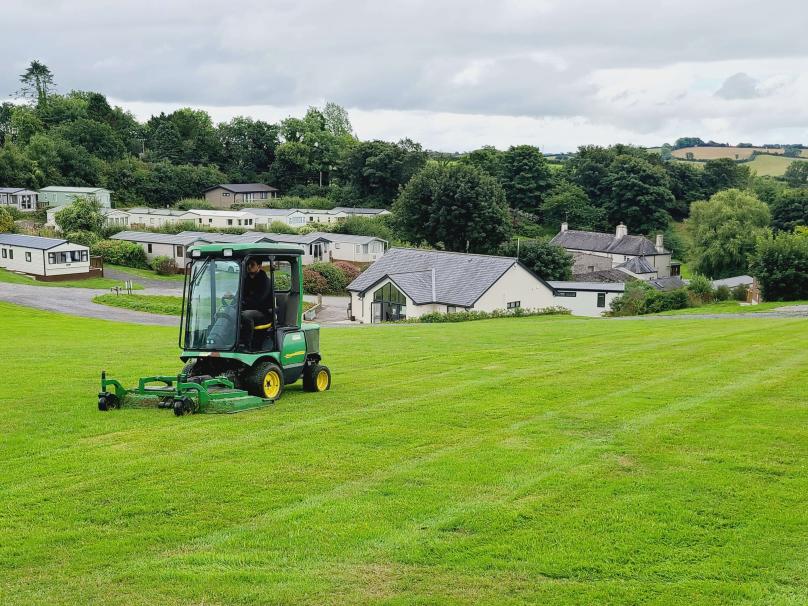 In summary, we aim to provide a quiet and relaxing South Devon holiday home.
We are a friendly, family-run park and pleased to help.
For additional information required in relation to any of the above pre-owned holiday homes please don't hesitate to contact us.
If you are interested in these lodges, feel free to book a personal appointment and take a look, as this will give you the opportunity to understand the style of park for yourself.
If you want to be updated on lodges as they become available, please subscribe to our mailing list using the box at the foot of the page.
For further details please contact us at by the following options;