South Devon Country Towns
There is a splendid array of market towns to explore in South Devon, and Webland is well placed for you to visit each of them.
Totnes - 'one of South Devon's gems'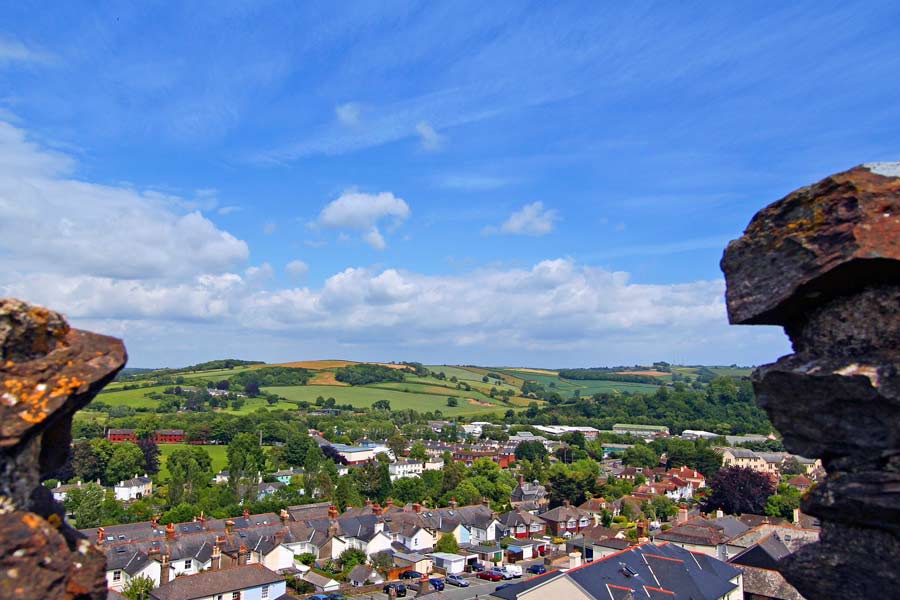 The nearest town to Webland Farm, approximately 6 miles away, is the historic town of Totnes, one of Devon's gems.
Based on the River Dart, Totnes is full of historical buildings dating back to Norman, Medieval and Tudor ages, and is overlooked by Totnes Castle, originally built in Norman times.
Totnes has had a long and successful history. Based at a strategic position on the River Dart it was originally a fortified settlement to defend against Viking raiders.
The view above is from the castle that overlooks the town. Totnes Castle provides excellent views of Totnes and the surrounding countryside. It is one of the earliest stone castles to be built in Devon, and is one of the best-preserved examples of a Norman motte and bailey castle to be found today.
Legend also has it that after the Trojan War, Brutus and his followers set out to find an island promised to him by the goddess Diana, and that they stepped ashore at Totnes. The 'Brutus stone' where he is reputed to have landed can be found in Fore Street.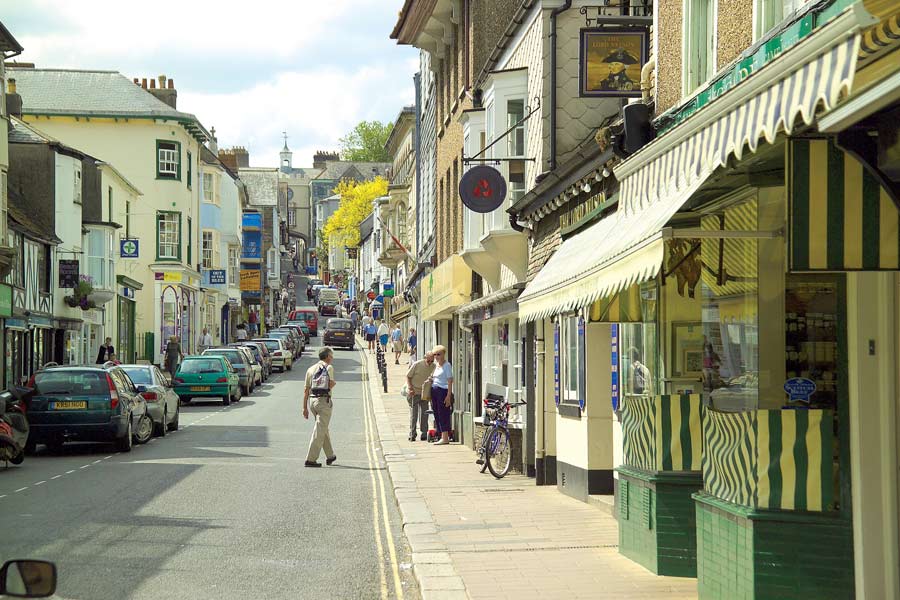 There is also plenty to see in the streets of Totnes. There are the 'Narrows", a series of narrow streets that date back to medieval times; there are ancient wells with spring water flowing into granite troughs; there are museums and excellent examples of period architecture; and there is a bustling market and a variety of pubs, cafes and restaurants to suit your taste.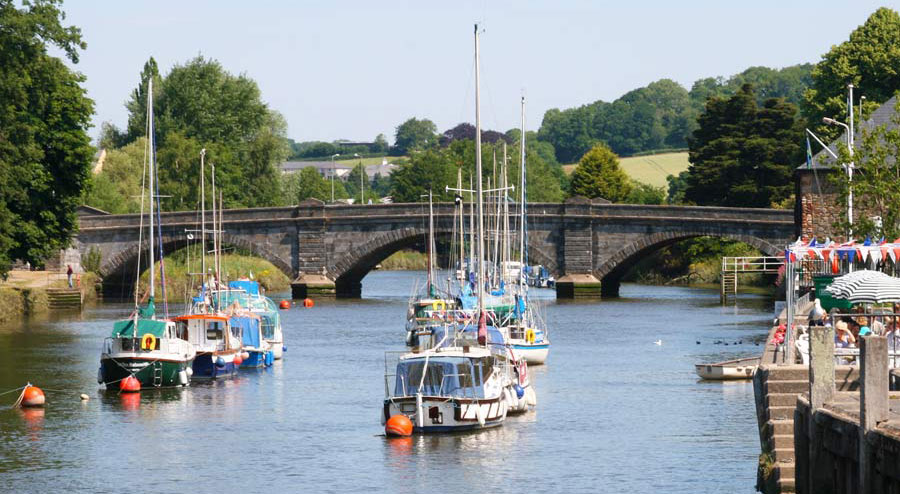 The River Dart, running through Totnes, also provides a scenic area to spend some time, and even take a boat trip down the Dart to Dartmouth.
The South Devon Railway also runs between Totnes and Buckfastleigh, giving you the opportunity to take a steam engine ride through some beautiful South Devon countryside.
More information about Totnes can be found on the following websites: –
Visit Totnes
A welcoming guide to Totnes, with listings of things to do and see, where to eat, walks and trails. You can download a detailed brochure from the site.
Transition Town Totnes 
A community-led and run local charity that exists to strengthen the local economy, reduce the environmental impact, and build a resilience for a future with less cheap energy and a changing climate
Devon's Best Walks – The Franklin Trail
A Devon Life article – "The Trail circumnavigates the town with several options to shorten the walk by cutting back into town centre. It is a well-signed walk of contrasts. If time and energy permit I suggest you also explore the wonderfully historic heart of Totnes – it is full of fascination'.
Totnes Walks
A selection of  walks starting in Totnes, ranging from short and easy to do to those for the more experienced walkers.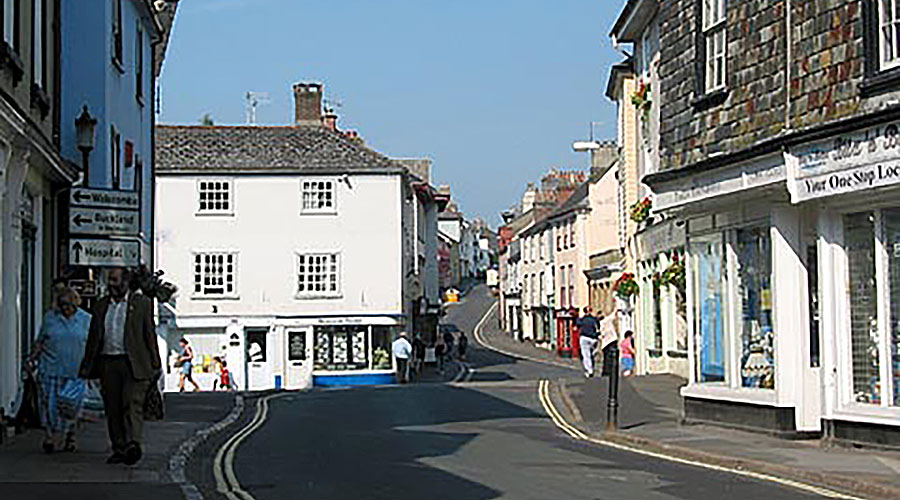 Ashburton is a Stannary Town and one of only four in Devon. The Stannary Towns were essential for the tin trade as they approved the quality of the tin before it was made available for sale. Tin was mined around Ashburton from Roman days but fell into decline in the 18th century.
At its peak in the 16th century, around 40% of the tin produced in Devon went through Ashburton.
Now a lively inland town, Ashburton has a range of specialist shops for walkers, plenty of antique shops, galleries and a variety of places to eat.
In July there are ceremonial events from the stannary days, including an ale tasting and bread weighing ceremony.
There is also a museum covering the history of mining and wool processing in the town.
The Chapel of St Lawrence is one of Ashburton's oldest and most interesting buildings and dates back to 1314.
More information on Ashburton can be found at: –
Discover Ashburton
A comprehensive guide to Ashburton, its history, things to see and do, and its shops, pubs and restaurants.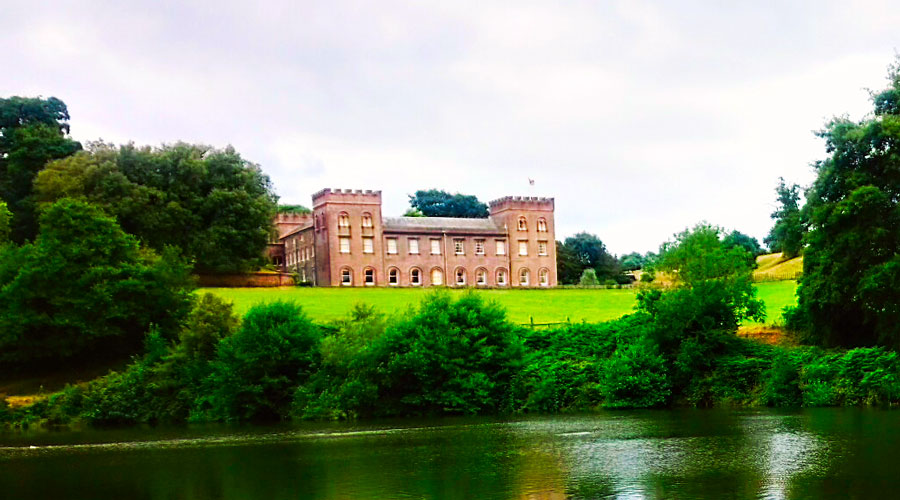 Newton Abbot's development came in the 19th century and it is now one of the largest shopping centres in South Devon. Attractions include Ugbrooke House (shown above) set in a Capability Brown garden and Stover Country Park, with the recently added Ted Hughes Poetry trail.
Nearby are Canonteign Falls, England's highest waterfall, the Centre for Contemporary Arts and the Natural World on the top of Haldon Hill.
Newton Abbot also has a popular National Hunt racecourse that holds regular race meetings throughout the year.
More details: –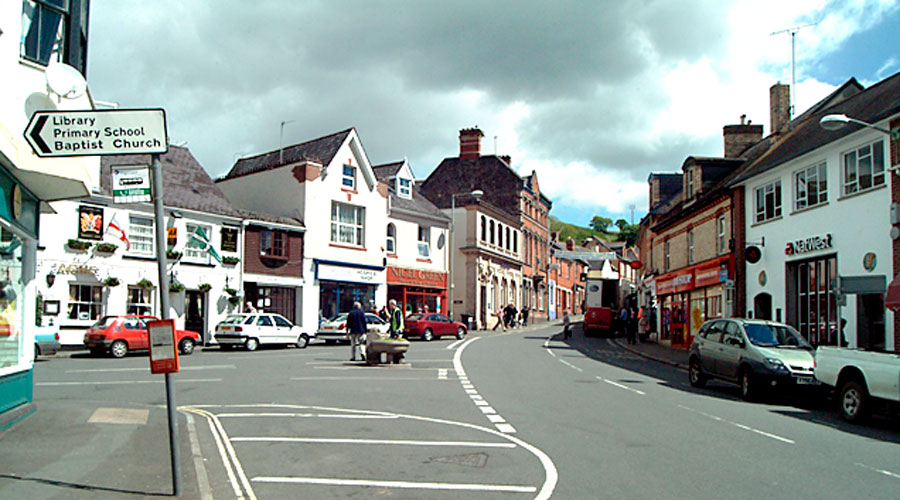 It is Bovey's location on the fringes of one of the UK's largest National Parks that provides much of its scenic charm. Just a few miles from the famous Haytor, Bovey Tracey is proud to be recognised by many as the gateway to Dartmoor; a landscape full of natural beauty. It is a pretty cob and Dartmoor-granite built town. (Photo courtesy of Mike Crowe, CC BY-SA 2.0) 
Situated on the River Bovey it is home to an internationally famous gallery in a 19th century water mill.
More details on Bovey Tracy at: –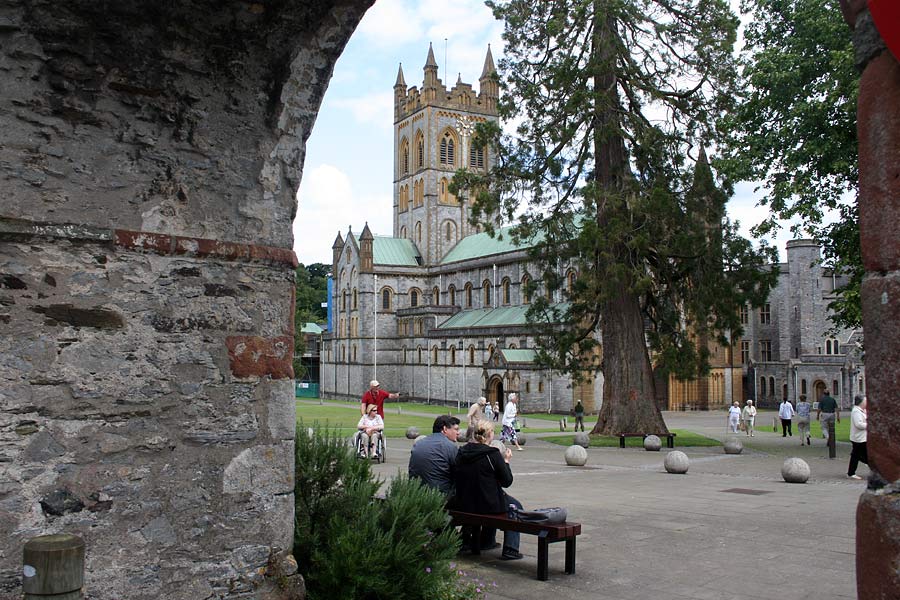 A small market town on the old route between Exeter and Plymouth, Buckfastleigh was a centre for the wool trade. At Buckfast, about a mile to the north, is Buckfast Abbey. Founded in the 11th century by King Canute, the Abbey is an active Benedictine Monastery and is open to the public.
You can take the South Devon Railway heritage train from Buckfastleigh along the Dart Valley to Totnes or the Buckfast Heritage Bus to the Abbey and the town.
It is a full day out seeing the splendid Abbey, monastic ruins, an exhibition, shops and the beautiful Abbey gardens that provide a tranquil and inviting space around the Abbey Church.
More details: –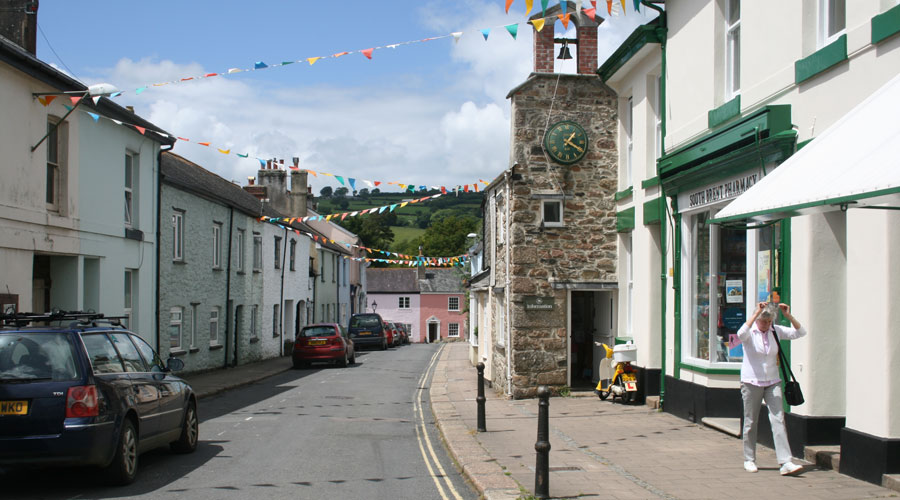 Close to Webland is South Brent, a gateway town into Dartmoor on the eastern side, and the closest one to Webland Farm.
The village centre is in fact within the boundaries of Dartmoor National Park. It is a thriving community with shops, pubs and restaurants.
A lively community, it enjoys both summer and winter carnivals, and so there is often bunting across the streets!
The town features a massive Norman tower of St Petroc's Church, this tower being what remains of what was a larger church building.
It's also a quick drive from Webland Farm, ideal if you need to do some quick shopping as there is a wide range of shops and services available.
South Brent also holds a Summer and Winter Carnival. The Winter Carnival is especially worth a visit for the nighttime parade of floats through the village centre.
More information: –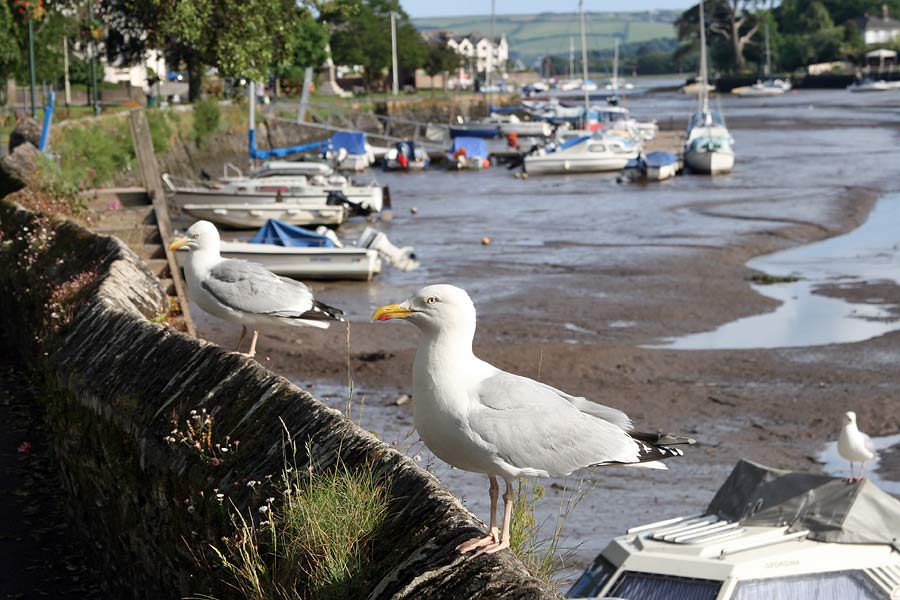 Regarded as the capital of the South Hams, Kingsbridge has a long history, and was famous for its shipbuilding and rope making.
On the one hand it is a busy market town, lively and friendly. It is, however, also chilled and relaxed with flowers and bushes well in evidence, the estuary tide coming and going, and views out to the rolling green Devon hills.
Kingsbridge still has many of its historic buildings in place, including the Old Shambles, parts of which date back to the 16th Century.
More details on Kingsbridge: –
Modbury is a delightful Devonshire market town that was a famous wool centre and the site of civil war battles.
It has some very attractive Georgian and Victorian buildings, and a good range of restaurants, pubs and shops to enjoy.
St George Church (above photo courtesy of Geoff Pick/Modbury, St. George) is also well worth a visit. Some parts are 1,000 years old and the majority of it dates back to the 14th century.
More details: –
Cockington is very much the South Devon picture book village with its thatched roofs and stone walls.
Take a walk, or even a horse and carriage around its narrow lanes, and it is like being transported back in time.
Splendidly relaxed,  a visit is not complete without a trip to Weavers Cottage Tea Shoppe for a cream tea or a light lunch in its 18th century cottage and courtyard.
More details on Cockington: –