"The location is delightful; the atmosphere is peaceful, access is
free and easy"liz and simon gowans
Latest Lodge News
Having sold our previous show lodge, we have now added a new show lodge on Meadow Plot 4. This lodge is on an outstanding plot with an uninterrupted view out to the Dartmoor hills. It retains the fresh country styling of our previous Meadow lodges, has extensive decking to the front and side, and has its own parking space. The price for this lodge is £185,000.
We also have a pre-owned lodge for sale in the Meadow that is in excellent condition and looks across Webland Farm to the Devon countryside. The price for this lodge £125,000.
For further information on these lodges or to arrange a viewing, please call us on 01364 73273 or use the website contact form.
Click on the yellow keys in the video above to take a Virtual Tour of our new Meadow Show lodge!
A Country Retreat
If you are looking for a South Devon holiday home as a tranquil country retreat, then a luxury lodge at Webland may be exactly what you want.
Webland Farm is a peaceful well laid out park with beautiful grounds and delightful views across to Dartmoor (as shown above) and the South Devon countryside.
The peaceful environment at Webland creates a sense of well-being and relaxation. Webland attracts holiday home owners who appreciate the peace and quiet above anything else. By their nature, these owners also respect the space and privacy of their neighbours. This means that we can create a relaxing holiday 'bolt-hole' with a warm and friendly atmosphere.
The park rarely seems busy, even in the height of summer. It is a place to relax and unwind.
As well as having beautiful countryside around the park, there are lovely walks through the local hillsides and meadows. There is an overall feeling of space and relaxation.
From the moment you leave the A38 and turn into Webland Lane, you know you have arrived in the middle of the South Hams countryside. Surrounded by two areas of natural beauty, South Devon and the Dartmoor National Park, the views are delightful.
Webland is ideal for both the short-term 'get away from it all' weekend break, and for the longer holiday when you can really chill out.
Webland is also a great holiday park to come to throughout the year, to experience the delights of the changing seasons. You can use your Webland holiday home at any time as your second home as we never close.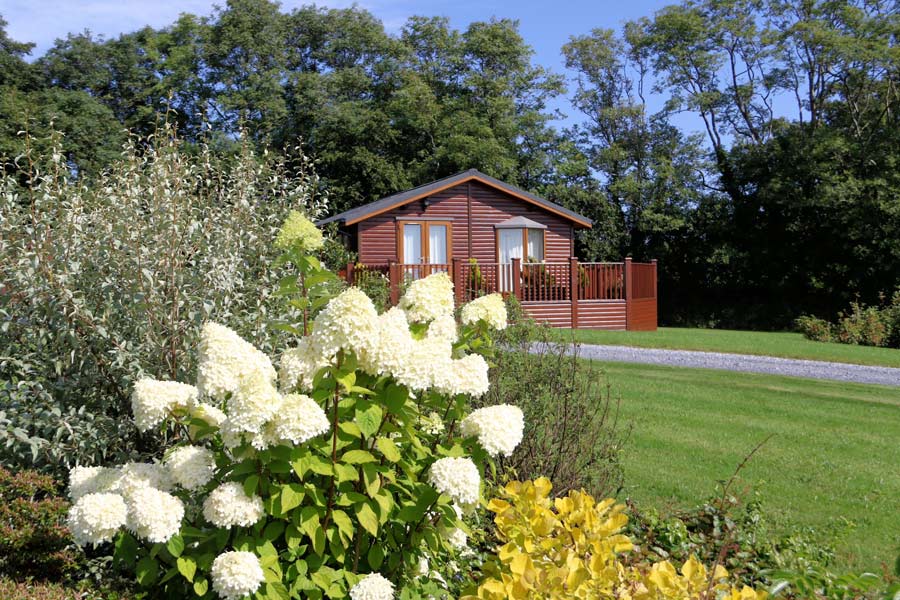 Webland is now going through a new and exciting stage of development as we add new lodges in the Meadow.
These new lodges are in a contemporary country lodge style and include high quality fixtures and fittings and state of the art technology. They also come with extensive decking positioned to provide you with the best views available. These 40' x 22' lodges will be the largest and most highly specified holiday homes on the park. For more information please take a look at the Meadow site plan. You can also request a brochure for the latest information on lodge specifications, availability and pricing.
Webland already has 28 beautiful timber clad lodges in the Spinney area. From time to time these come available for sale as a value for money pre-owned opportunity. These lodges come with a range of different designs and interior colour decorations and furnishings.
All our lodges come complete with double-glazing, central heating, furniture and furnishings. As with the Meadow development, all our Spinney lodges have a spacious decking area for you to relax outside and enjoy the view.
Welcoming Lodges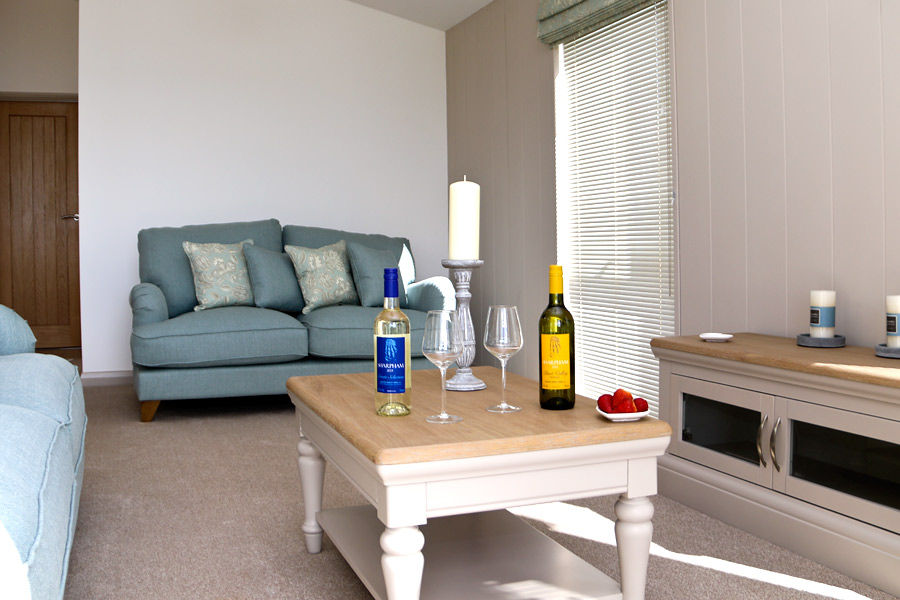 The internal finish of our luxury lodges always surprises first time viewers. Everything is finished to a very high standard. The Meadow and Spinney lodges include 2 bedrooms (one bedroom having an en-suite shower), bathroom, kitchen, lounge and dining areas. 100mb Broadband connection is also standard. Meadow lodges also have a 3-bedroom option.
The open plan lounge and dining area is the spacious and relaxing centre of your holiday lodge. The large windows and the vaulted ceiling add to the sense of space whilst retaining a feeling of warmth and welcome.
Integrated with the lounge/dining area is a modern kitchen designed to provide you with plenty of surface areas and cupboard space. There is also a full range of kitchen appliances.
Full details of the lodge specifications are available on their individual web pages.
The plots we provide, including external decking, add to the feeling of space and privacy for each lodge owner.
We agree a decking plan with each new owner before installation, and we look to get the best design for each plot. The extra decking we provide has been popular with our owners, who see it as an important added benefit in the Webland package. We believe we provide a larger and better quality build, as well as being individually designed.
Decking is inclusive in the standard price of Meadow and Spinney lodges.
The Meadow and Spinney developments provide space between lodges that is always well in excess, and often more than double, holiday park standards. We also have an on-going planting programme which has added a large number of shrubs, bushes and flowers to the park in recent years. This has increased the charm and privacy of the lodge plots whilst retaining the views out from the park.
Lodge Developments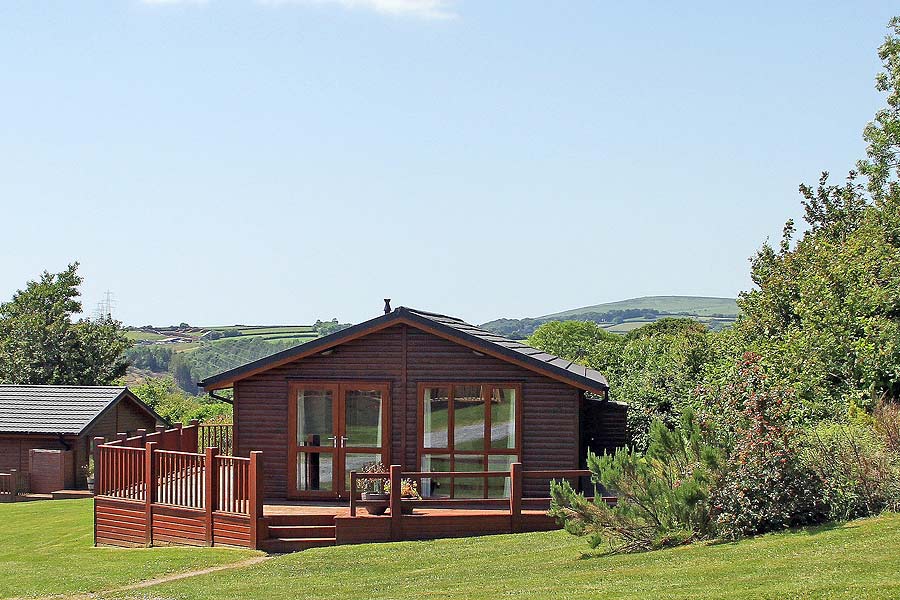 At Webland Farm there is no restriction on when you can use your 'log-cabin' as we are open every day of the year. The only condition is that Webland is not your primary residence. All our lodges are designated as second home/holiday home use.
We normally have show lodges available for viewing. The show lodge is a ready to go option that means you can move into your new holiday home almost immediately. You can, of course, choose to order a lodge and have more input on the decking and the interior design.
As lodges become available, we send details out to our e-mail and contacts lists and then also add the details to this website. We would recommend, therefore, that you request a brochure and join our mailing list to get the latest information on availability and pricing.
A family owned and managed holiday park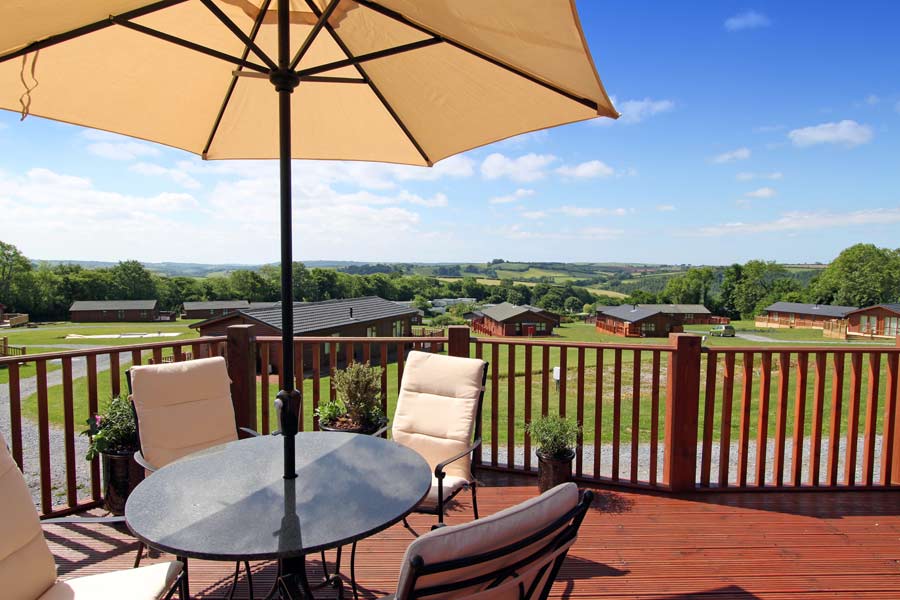 Webland Farm is different to many holiday parks in that we make a conscious decision not to over develop the park. We have delightful views and we want our lodge owners to enjoy the peace and tranquility of their 'escape to the country'.
We have been full members of the British Holiday & Home Parks Association (BH&HPA) for many years and all our agreements have a fair price policy. We prepare them using BH&HPA guidelines.
South Devon – Beautiful country and coast
Webland Farm is a great base for exploring South Devon and Dartmoor. We are just a few minutes from Dartmoor, only 15 miles from the coast, and 6 miles from the historic market town of Totnes.
The South Hams coastline is an Area of Outstanding Natural Beauty. The beaches are well known for their high standards and are regular award winners for the quality of the beaches and seawater.
Salcombe has one of the mildest climates in the country. The town is on the Salcombe to Kingsbridge estuary, which is usually full of all types of sailing boats. There are plenty of beaches on both sides of the estuary and landscaped gardens make the whole area very attractive. Salcombe is an active town and holds many events including the Salcombe Festival, Regatta Week and the Dragon boat race.
Further down the coast, Bigbury is a personal favourite of many of the owners at Webland Farm. It is just a short drive from Webland. In addition to being well known for surfing and canoeing, Bigbury has a mainly sandy beach that is perfect for the family.
There are some outstanding coastal walks, and an island that you can walk to, well at least at low tide. At high tide there is a sea tractor that can take you across.
The island in question, Burgh Island, has featured in a number of films. These films include Agatha Christie and Lovejoy episodes and the Dave Clark Five film 'Catch us if you can'. At high tide there is a sea tractor that can take you across.
There is a splendid array of charming market towns to explore in South Devon, and Webland Farm is well placed for you to visit them. Nearby towns such as Ashburton, Kingsbridge and Totnes provide a mixture of history, culture, markets and antique shops to explore. There are many pubs and restaurants to choose from, and events that occur throughout the year.
Totnes is a fascinating town, steeped in history and with a reputation for being bohemian and attracting alternative lifestyles. There are many examples of properties in Totnes dating back to Norman, Medieval and Elizabethan times.
Totnes castle, a Norman castle that gives you superb views over the rooftops, is the centre point of the town.
There is a unique atmosphere to Totnes and it is a lovely place to spend time in. Summer market days include special Elizabethan days when market traders are in full Elizabethan costumes.
No trip to Devon is complete, of course, without a traditional Devon cream tea. There are many little villages with local teahouses. If you enjoy golf or fishing, there are many places nearby to meet your needs.
Dartmoor – Area of Natural Beauty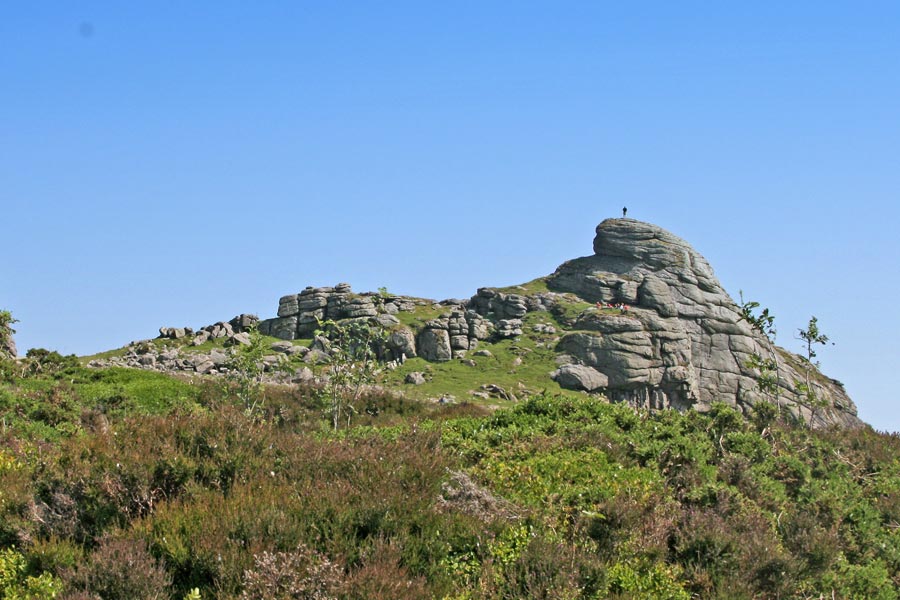 Dartmoor is an exceptionally beautiful place to visit and its landscape changes with the seasons. It offers great walks for both the casual and experienced walker. Views of woodland valleys, rushing rivers, and striking reservoirs abound. It also has a wealth of historical remains; its own nature reserves and cattle, sheep and ponies roam free across the land.
Dartmoor was also used extensively in the 2012 Stephen Spielberg film Warhorse because of its spectacular scenery and lighting. You can visit the places used in the film by following one of the guides available.
Dog Friendly Holiday Park
For owners who want to bring their dogs to the park, we have a dog friendly approach as long as owners respect the space and needs of other holiday home owners. We have a separate area for dogs to run in, but we ask that owners control their dogs on the main park.
Stay Connected
You may be in the middle of the Devon countryside but you still want the best of internet connections. We have just made a major investment to bring a super fast uncontested broadband connection to the park which opens up a world of technical opportunities.
Not only can you have a dedicated and speedy connection for your phones, tablets and computers, but it enables us to provide you with a Sonos base station and, if you so choose, you can bring your own devices to the park including your Sky TV box.
A 100MB uncontested line, which means 100MB for both upload and download, gives you all you need to stay connected whether that be for work or pleasure.
Your relaxing Devon 'bolt-hole'
In conclusion, if you would like a Devon holiday home in a quiet, peaceful park with delightful views, then Webland will meet your needs.
It is a friendly non-intrusive environment. There are occasional site activities but by and large the priority is to make sure that you have everything you need. We just want you to relax and enjoy your holiday lodge.
It is important that you have complete confidence and trust in us when you choose to have your holiday lodge at Webland Farm.
Webland has a fair price policy when it comes to annual pitch fees. We present initial purchase contracts clearly for you to ensure you fully understand the agreement.
Owning a holiday lodge should be 'hassle-free'! We can provide you the service and support you need. You can be confident that your lodge is well looked after even when you are not there.
The value for money that a holiday lodge provides, along with our service and support, makes Webland a great option for a South Devon holiday home.
We want to meet the needs of our owners who want total relaxation, and who want to enjoy the countryside from their 'second home'.
If we sound like the place for you, please give us a call on 01364 73273. We would be delighted to send you our brochure and latest information, and answer any questions you may have.
Alternatively, why not come and see us at Webland and view the quality of our lodges for yourself. We normally have a show lodge available for viewing on site. We would love to show you round the lodge and the park and answer any questions you may have.